Shop by Furniture Type
QUALITY OUTDOOR FURNITURE
Looking for high-quality outdoor patio furniture in Florida? Look no further than our store, where our mission is to provide the best products at the best value. We pride ourselves on excellent customer service and stand behind every item we sell.

Shop by Material
MATERIALS DESIGNED TO LAST
Tubular Aluminum outdoor furniture is one of the most versatile product categories. Style, comfort, and durability all with an impressive range of colors and designs.
Choose from great options for every type of furniture with cushions or sling.  Shop for deep seating, dining, barstools, sectionals, and chaises.
All Weather Wicker for All Seasons
Durable and stylish, our woven collections begin with the highest-grade materials. Aluminum frames are then hand woven with Grade A, high density polyethylene weaves in a variety of colors and styles for beautiful and functional outdoor furniture. Select personalized cushion colors with hundreds of options, including Sunbrella fabrics. We can even water-proof your cushions with Sunbrella Rain.
These beautiful, hand-woven outdoor furniture collections are available in a wide variety of colors and styles from traditional to modern.  Our collections offer deep seating, sectionals, curved sofas, chaise lounges, dining chairs and barstools.  Check out our outdoor recliners for extreme relaxation.
Grade A, FSC® Teak
Teak has been well known for centuries for its quality, durability and beauty. Teak is a very hard, densely grained wood with a high oil content. The unique combination of these characteristics makes teak naturally resistant to moisture, rot, warping, shrinking, splintering, insects, fungus, marine bores, and termites, making it the ideal material for the creation of patio furniture.
Our outdoor living products conform to the highest quality and construction standards. Our products are made from only grade A, plantation grown teak harvested from government managed plantations.
Commercial Applications
Commercial outdoor spaces cope with all the same harsh salt and sun as residential spaces plus increased use, abuse, and maintenance. Florida Backyard's wide selection of durable commercial outdoor furniture options add comfort and style while withstanding the commercial environment.
Browse our commercial patio furniture and talk to us about your space and your needs.  This image is from a recent installation at St. Simons Beach Club.  Visit this page for a list of our recent commercial outdoor furniture installations.
FIRE PITS
What's hotter right now than fire pits – but, we're in Florida, right?  The secret is that these gas firepits use adjustment knobs to minimize the heat while you enjoy the fire's ambiance. On cool nights, dial it up and enjoy the warmth.
​Fire pits enhance every outdoor space. Available in a variety of sizes, colors and heights from conversation pit to bar height and everything in-between.
Our fire pits are designed to be used with a standard 20 lb. propane tank.  Conversion kits are available for direct plumbing into your existing gas line.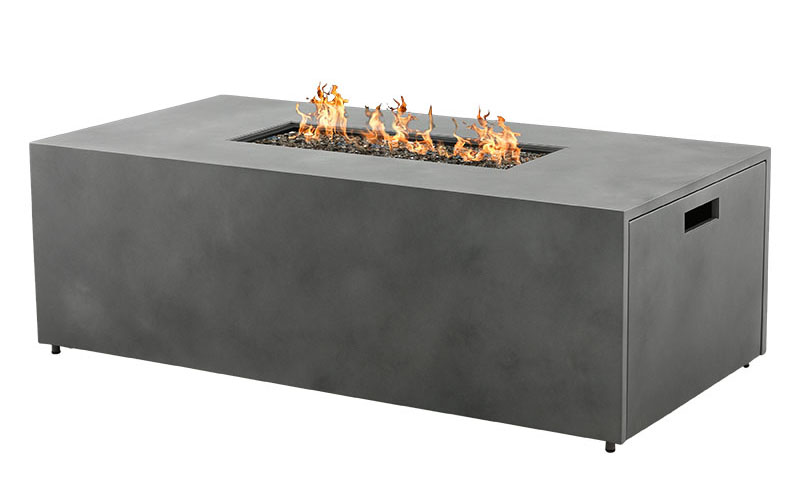 Poly lumber creates beautiful, durable patio furniture that elevate your outdoor living space.  With a wide variety of outdoor furniture options such as Adirondack chairs and rockers, dining sets, chaise lounges and deep seating patio sets – poly lumber furniture is customized to reflect your personality and style.
​Crafted from HDPE (high-density polyethylene), these poly lumber products resist rot, mold and mildew. Plus, they are as maintenance-free and weather-tough as it gets! Uncommonly colorfast, the pigmentation runs all the way through the poly-lumber itself, so the furniture never needs sealing, painting or staining. The interlocking mortise-and-tenon construction means parts won't shift, or wiggle.  All fasteners are made with marine-grade 316 stainless steel.
Cast Aluminum
Cast aluminum outdoor furniture is solid aluminum allowing for more intricate designs, more details and more weight than tubular aluminum.  Cast aluminum is beautiful, sturdy and durable in the elements.  But–not all cast aluminum is the same.  Quality cast aluminum products start with clean, virgin materials and require extensive treatments to perform in the bright, humid, salty Florida environment.
While aluminum doesn't rust, it can corrode if not properly cared for.  Salt especially can affect the furniture's finish over time. Our cast aluminum collections meet the highest quality standards by going through a rigorous eight-step treatment process that ensures it looks beautiful year after year. In particularly salty areas, especially within five miles of the coast, rinsing the frames regularly is essential to keeping  your cast aluminum looking good as new.
MGP
Florida Backyard's Marine Grade Polymer (MGP) products bring durability and fashion together. MGP is made of HDPE (high-density polyethylene), known for its strength and impermeability in the marine industry. It's environmentally friendly, recyclable and makes amazing outdoor furniture.
Manufactured in the USA, using state of the art technology, Marine Grade Polymer creates high quality furniture comfort, strength, durability and high design.
Shop our MGP collections for Adirondacks, Deep Seating, Sectionals, Dining & Bar Sets and Chaise Lounges.
Chaise Lounges
A perfect pool day begins and ends with a chaise lounge.  We offer chaises in every material including All-Weather Wicker, Aluminum, MGP, Poly Lumber, Ipe Wood, Cast Aluminum, and Teak.  Use it with a plush Sunbrella® Cushion for a luxurious, high-end look or shop our cushion-less options for lower-maintenance chaises.
DURABLE | Poly with the look and feel of real wood but, unlike wood, it is guaranteed with a 5-year warranty not to crack, splinter, chip, peel, or rot.
COMFORT | These Poly Lumber products offer comfortable seating without cushions.
SUN GUARD TECHNOLOGY | Backed by a five-year warranty, poly lumber products maintain their rich color with an infusion of specially formulated color pigments and UV stabilizers.
WEATHER RESISTANT | Sun, wind, rain, salt spray - these products withstand the seasons and their elements.
STAINLESS HARDWARE | All fasteners made with marine grade stainless steel (316).
MAINTENANCE FREE | No painting, staining, or sealing is necessary.
Relax. Chill out. Have a glass of wine. Stretch out in the sun. Breathe in the fresh air. It's time to rejuvenate yourself. Your outdoo...
FIRE PITS By Florida Backyard The cool, crisp air. Roasting marshmallows. Good friends around the fire. Curl up and enjoy an evening u...
How to Transform Your Outdoor Space into a Party Paradise Poolside or patio, outdoor spaces make for a booming backyard bash! Some p...