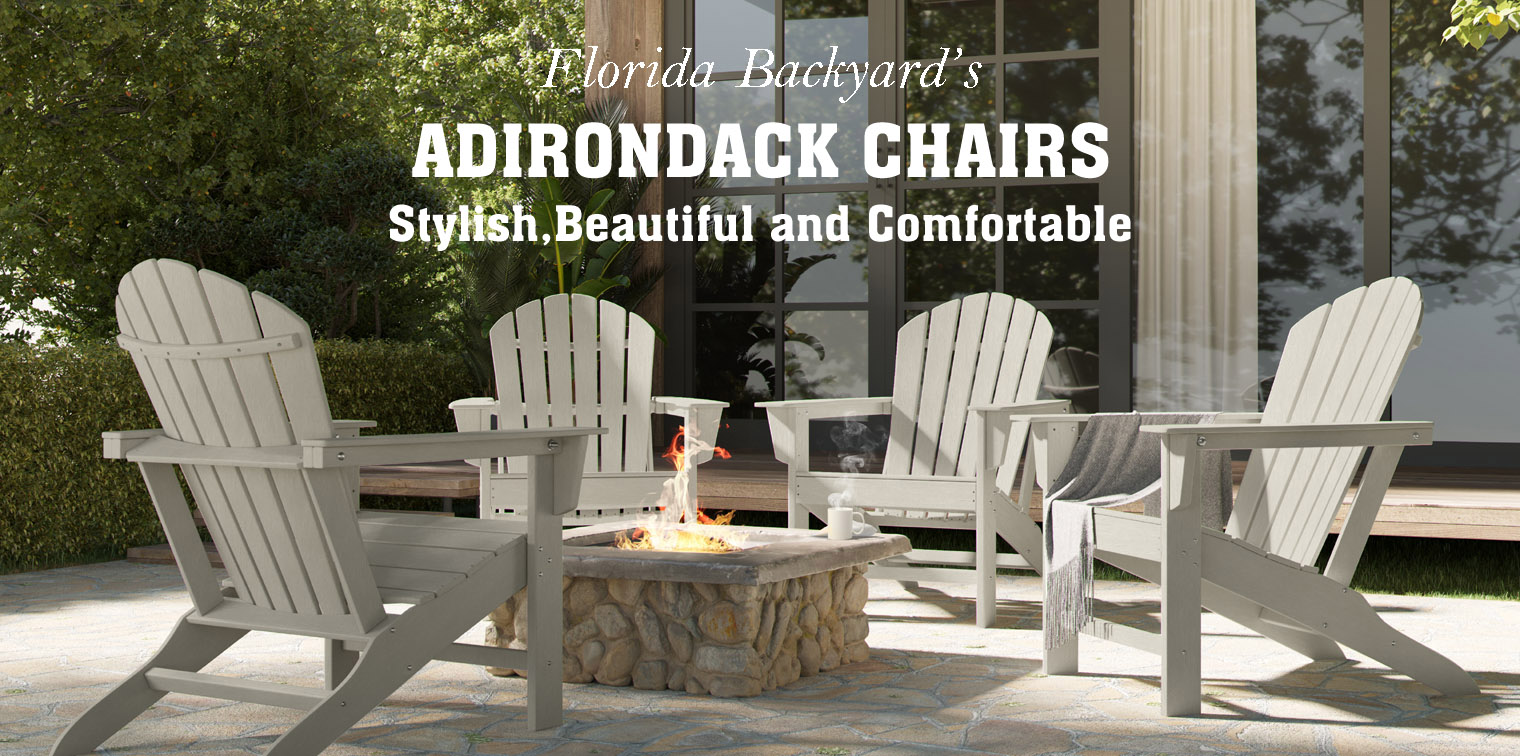 POLY LUMBER ADIRONDACK CHAIRS
Manufacturing & retailing the best outdoor furniture since 1998.
Featuring, wide armrests, a perfect slope that Adirondack chairs are famous for, and sturdy mortise & tenon construction, these chairs will also turn plenty of heads when you set them out on your lawn, porch or patio, by the pool, the lake or just about anywhere else outdoors.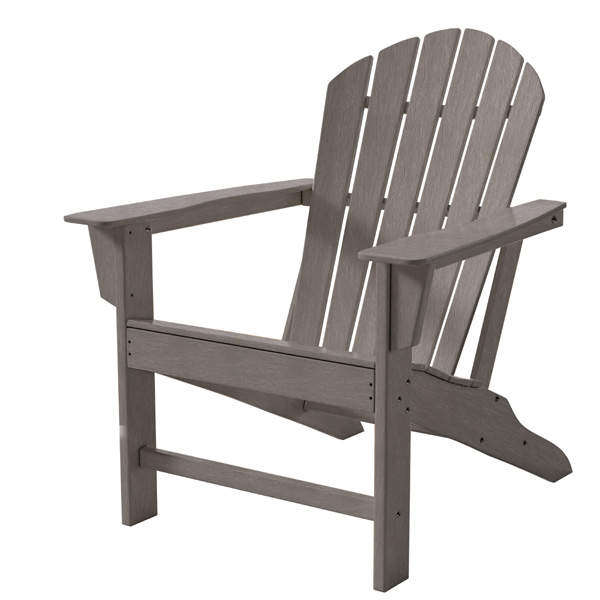 BEAUTIFULLY CRAFTED ADIRONDACK CHAIRS
$249 each
AVAILABLE IN THREE COLORS
Gray | Ivory | Weatherwood
PRODUCT DETAILS
Unwind on your patio, porch, lawn, or deck with comfortable and durable Outdoor Poly Lumber Adirondack chairs.
Florida Backyard's Adirondack chairs are weather-resistant and maintenance-free while staying true to the rustic look of the classic Adirondack.
MATERIALS: Poly Lumber Adirondack Chairs are made with sturdy HDPE material ensuring enjoyment for years. Poly Lumber Adirondack chairs resist rot, mold, and mildew. They are as maintenance-free and as weather-tough as it gets.
DURABILITY: Poly Lumber Adirondack Chairs offer the look and feel of real wood but, unlike wood, it is guaranteed with a 5-year warranty not to crack, splinter, chip, peel or rot. The rich infusion of specially formulated color pigments and UV stabilizers protects the furniture so it never needs sealing, painting, or staining.
STRENGTH: Weighing in at 42 lbs., this Poly Lumber Adirondack Chair outweighs the competition making it both strong and stable. The mortise & tenon design creates additional strength and durability.
WEATHER RESISTANT: Sun, wind, rain, salt spray – Poly Lumber products withstand all of the seasons and their elements.
COMFORT: Our Adirondack Chairs offer comfortable seating without cushions. The Adirondack Chair Seat Height is 16″ Inches and the Armrest Height is 24″. The dimensions coupled with a perfect backrest pitch create the ideal sit.
MAINTENANCE FREE: Our Poly Lumber Adirondack Chairs are maintenance-free, and never need sealing, painting, or staining. Cleaning is quick and easy with soap, water, and a soft bristle brush.
WEIGHT & DIMENSIONS
Overall Size:28" L x 30" W 36" H. Seat Height 16" | Arm Height 24" | Weight: 42 lbs.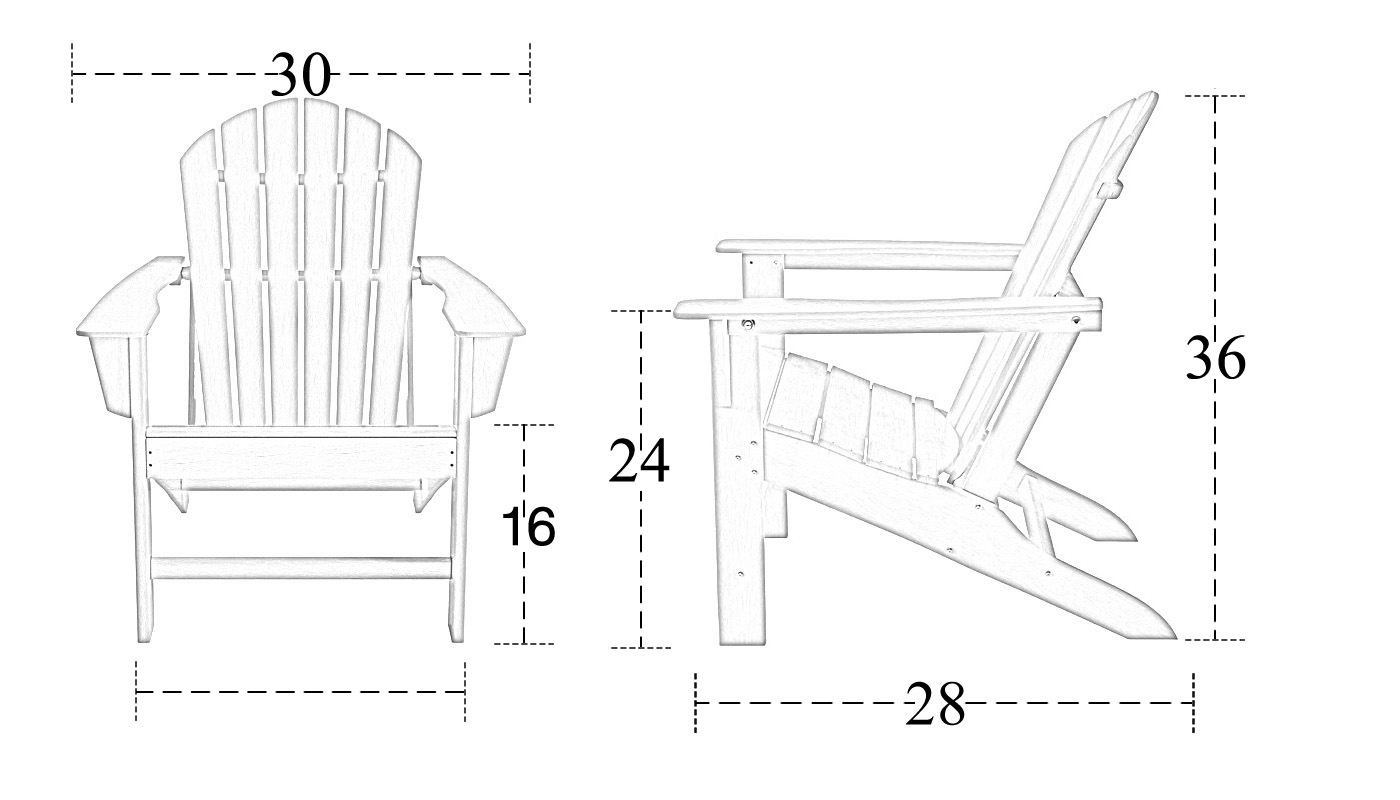 Made using recycled plastic
Florida Backyard's Adirondack chairs crafted from HDPE (high-density polyethylene), a proprietary material which includes landfill-bound and ocean-bound plastics. These poly lumber Adirondack chairs resist rot, mold, and mildew. Plus, they are as maintenance-free and as weather-tough as it gets!

REVIEWS
Martin Merzer
2. May, 2022.
Update: Everything we ordered was delivered to us in Tallahassee this past Friday (April 29, 2022) - just as promised. On time. In terrific shape. And without any shipping or delivery fee. We could not possibly ask for anything more. We recommend Florida Backyard in the highest possible terms. Excellent furniture and, equally important, tip-top customer service. Earlier post: We traveled from Tallahassee all the way to Jacksonville yesterday, attracted by what appeared to be Florida Backyard's enormous selection of patio furniture and reputation for first-class customer service. We were extremely impressed by both. Major kudos to Samantha who worked closely with us for nearly two hours, determining our needs, suggesting excellent choices, and handling all details. Obviously, we now are awaiting delivery, but this initial experience could not have gone better. And thanks also to Jeff, the general manager, for his friendly efforts. Assuming all goes well with delivery, we are customers for life.
Janet Cole
18. April, 2022.
About 12 years ago, we purchased a patio set with gliding chairs. One of the original glide arms corroded and broke off. I sent a picture to FLORIDA BACKYARD and asked about purchasing a replacement part. Within 1 day, Sabrina answered that although the set was discontinued long ago, they had 4 replacement glides set aside for me. She offered to mail them because we do not live close to the store. Amazing! We appreciate their prompt help! The chair repair was easy. Check out the exceptional variety of high quality, beautiful outdoor furniture at FLORIDA BACKYARD!
April DiPerna
8. April, 2022.
Great quality furniture, great customer service. Recently had to have a repair made to an outdoor chair. I was treated great from the moment I called the store to the repair man that came to my home. Everyone was extremely helpful and professional.
Kim Berry
30. March, 2022.
We purchased our outdoor furniture several years ago, and have actively enjoyed using them quite often. We used our two chairs so much, some parts were getting worn out. We've moved several times since, but when I contacted them for replacements they jumped in and helped out immediately. They shipped our parts no problem. And now that we've replaced them everything is as good as new!!! I bought the furniture and loved the idea of the warranty but you never know how it will go when you need to make a claim. This absolutely could not have gone any better. All communications were handed by email, confirming shipping/parts/warranty info and within a week or so everything was done. SUPERIOR customer service!!!!! And excellent company for honoring their warranty AND making it hassle-free. I wish more companies were this good! Totally worth the investment.
Sherlyn Pepper
23. March, 2022.
I can not say enough about how amazing my experience was and has been over the years with Florida Back Yard! From the amazing staff, to service and quality of their products! We recently updated our outdoor furniture that we have had from Fl Backyard for 10 years that looked the same as the day we got it to a newer style with more seating and absolutely love it!! The quality of their furniture is a 10/10!
Jane Mcilvaine
3. February, 2022.
I had a great experience working with Taylor at Florida Backyard. I was looking for dining chairs, and Taylor provided great guidance throughout my selection process. It was evident that she was very knowledgeable...and she had a great eye for color, as well. Believe it or not, the chairs I selected were in stock, which was a real bonus! Great customer service all around!
Gretchen Fraser
19. November, 2021.
I love, love, love my new patio furniture from Florida Backyard. I am beyond thrilled. It's gorgeous, high-quality, and super comfortable. We will enjoy this for many years to come. Great experience!
Allana Kraft
17. February, 2021.
Yes yes yes! We looked for a quality patio set for over a year and finally found Florida Backyard. The quality is tops, same types of sets as Ace Turner at the beach, but the prices and customer service are SO So much better! We worked with Taylor in the showroom. We ended up getting a half moon couch with reticulated foam cushions that let the water drain right through. I'm so glad we did this cushion upgrade because we don't have a covered porch and we don't always bring the cushions inside. We also got a fire pit/table that we LOVE If you're looking for patio furniture you should absolutely do your due diligence and check out Florida Backyard!