Relax. Chill out. Have a glass of wine. Stretch out in the sun. Breathe in the fresh air. It's time to rejuvenate yourself. Your outdoor furniture makes or breaks that backyard bliss.  A jumble of plastic tables and chairs with an ugly, giant umbrella is not your vision for outdoor living. You want to decorate a real living space — that's the same caliber as the inside of your house. A living room, dining area, or an open bar… outside.
And now it is possible! But it can be tricky.  Consider these aspects of outdoor furniture to make your alfresco vision come to life.
What Room Are You Creating?
To make most of your outdoor space, first, consider what you want to do in it. Will you sip coffee in the early morning? Throw lavish poolside parties? Organize birthday parties and family gatherings? Serve fancy holiday meals? Or just kick back and relax on your lounge chair after a dip in the pool?
Is this an outdoor living room? Dining room? Family room? Bar? Of course, the purpose of the room changes the furniture. Yet, many people have a table and chairs set (with the big ugly umbrella) in their outdoor area where they wish they had a spot to curl up and read.
So, think carefully, and compare the outdoor use to your indoor use. Then, compare the outdoor furniture to your indoor furniture. And choose the right furniture for your use.
How Comfortable is the Outdoor Furniture?
Take a seat before you buy. There is a LOT of outdoor furniture that is just wrong. Give it the Goldilocks test. Check every piece of furniture out until you find the one that is just right.
Get sofa style seating with comfy cushions or pillows. Lower quality cushions wear out quickly so, opt for well-constructed cushions made with fade-free and mildew-resistant fabrics. Swivel rockers, sofas and sectionals make good choices. To decorate your pool area, go for chaise lounges and day beds.
Environmental Factors
There are a lot of environmental factors to consider when selecting outdoor furniture. Maintenance requirements and climate conditions impact longevity and appearance. For example, weather wicker, aluminum, teak, marine grade polymer and poly lumber products require little to no maintenance.  Steel, iron and even cast aluminum are materials to avoid in coastal areas.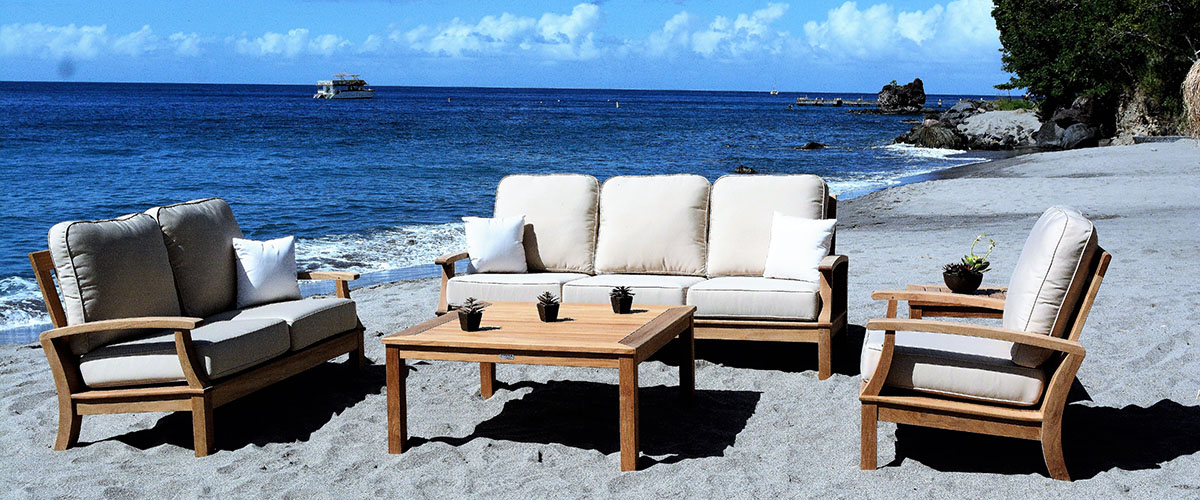 Humidity & Moisture
If you're in a humid or moist environment you know how mold and fungi thrive. It can be a pain to clean but it won't damage most furniture. Just make sure they are cleaned regularly and that you get expert advice on high performance fabrics and how to clean them.
Full Exposure
Furniture and fabrics continuously exposed to the sun may fade. Over time the loss of color becomes more and more obvious, and you may notice uneven spotting. Often the weathered look of wood caused by sun exposure is desired.  But if the rustic look isn't your thing and you want to keep the showroom-shine on your furniture, invest is quality weather wicker or marine grade polymer products. Be sure to select a set that can dry out quickly so an earlier rainstorm doesn't keep you from using your outdoor furniture when the sun sets.  Opt for fast-dry cushions, sling furniture or cushion-less products.  Fast-dry cushions are made with water-resistant fabric like Sunbrella Rain fabrics that feature a protective rain barrier coating. Upgrade your cushions with a reticulated foam core creating instant-dry cushions – the water just drains straight through, so you never sit on a wet chair.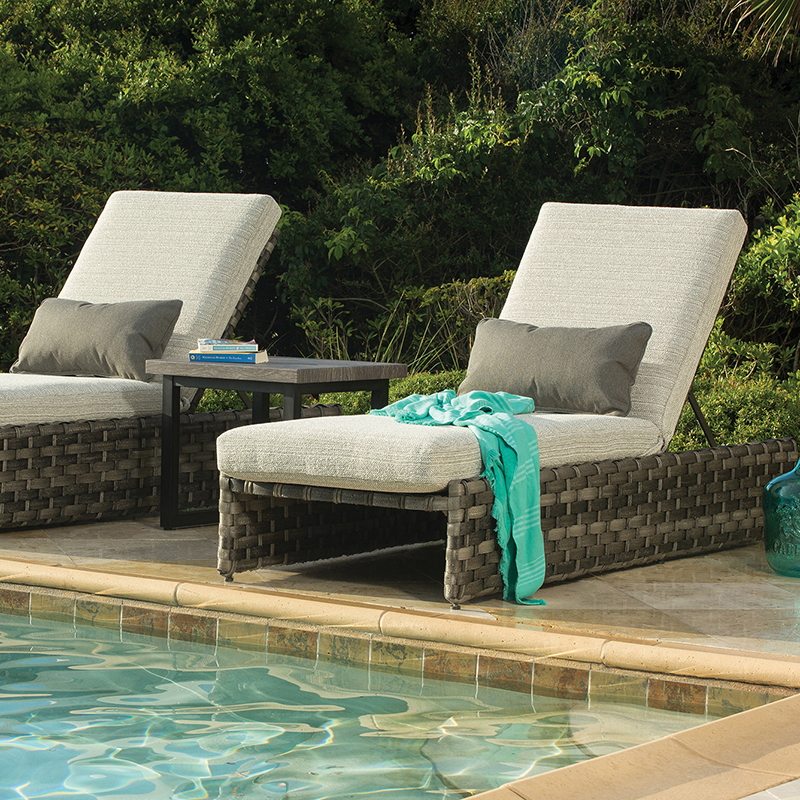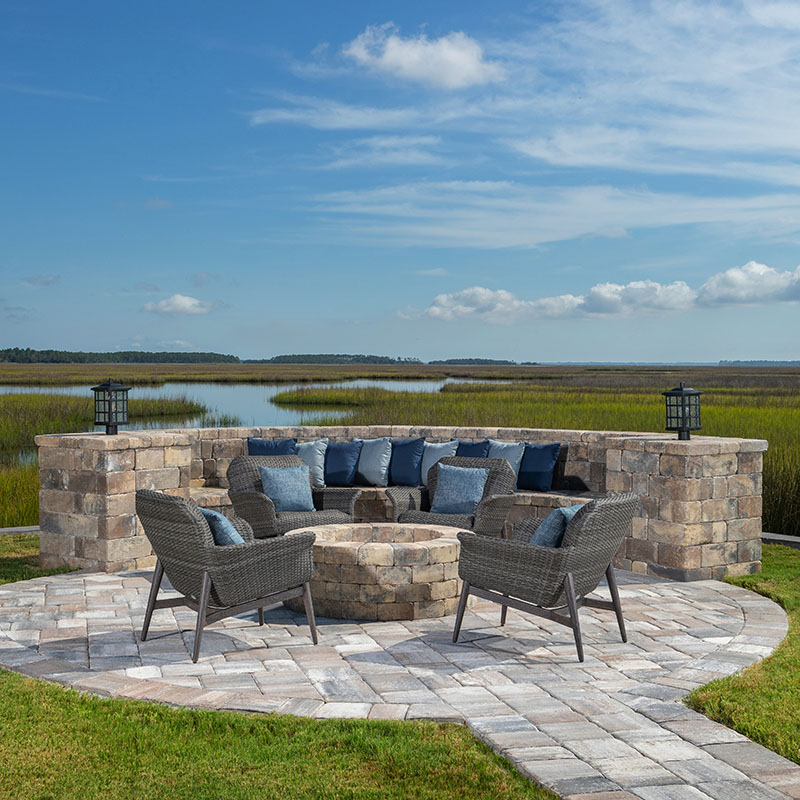 Beachside
If you live on or near the ocean you know how corrosive the salt air can be.  You should avoid furniture made of steel, iron, cast aluminum — really any metal. Constant exposure to the salt air corrodes the finish resulting in pitting and even peeling.  If aluminum furniture is desired, carefully select quality powder-coated aluminum and be prepared to rinse it frequently. For oceanfront furniture high quality woven, poly wood or marine-grade polymer furniture is recommended. These materials require low maintenance, are incredibly durable and have great longevity.
Heat Retention
Heat also leads to problems. Too much sun causes the furniture to heat up, making it too hot to touch. Keep the furniture out of the direct sun by adding an umbrella.  And remember BBQ grills, fire pits and other hardware components need cover, too.
Wind
Lightweight furniture in a windy area sets you up for disaster. Strong winds easily blow away chairs or a dining table. Always opt for heavy-weight sofa sets and tables. Consider having extra ties added  to secure cushions to the furniture. 
Florida Backyard
Every piece of furniture at Florida Backyard is made with durability and longevity in mind.  Florida Backyard provides innovatively designed, high-quality outdoor furniture in a variety of colours, materials and fixtures. Get expert advice from our designers to help you create your perfect outdoor living room.