FIRE PITS By Florida Backyard
The cool, crisp air. Roasting marshmallows. Good friends around the fire. Curl up and enjoy an evening under the stars. That's what having an outdoor space is all about. As the sun sets earlier, and the weather cools, it's the season to create a calming mood with a real fire pit. Spring or fall, an outdoor space with a fire pit adds joy to your life and value to your home. A comfy sofa set on the patio looks stunning encircling a warming fire to extend the summer season.
Types of Fire Pits – How to Choose your Fuel
Usually, the first decision to make is what kind of fuel you want to use. The options are:
Propane
Natural Gas
Wood
Ethanol
Propane, natural gas and ethanol are all clean-burning, spark and smoke-free fuels that leave no ash to clean up. Propane and ethanol are self-contained, using only a refillable fuel tank. Natural gas requires tapping into your household natural gas supply. You require a ticketed professional to hook up a natural gas fireplace.
Wood fire pits are the least expensive, most rustic, and the most work. Smoke, sparks and ashes are all part of the authentic woodburning experience.
Propane fire pits offer all the benefits of the clean fuel options, much like your propane grill. You'll have flame adjustment controls and some have an automatic ignitor. Odor-free flames turn on and off quickly and easily. Usually, there's a lid so you can protect the burner and components, and have more surface area when you don't have a fire going.  Stay warm as you sit by the fire when the evenings get all the way down to the 40°s or on those warmer nights, maintain a low flame and still enjoy the ambiance a fire creates.
There is a voluntary certification process for propane fire pits that ensure the safety and reliability of the unit. Check every fire pit you consider to see that it is certified.
Propane fire pits are inexpensive, easy-to-clean, durable and an excellent choice for families looking for a practical backyard experience.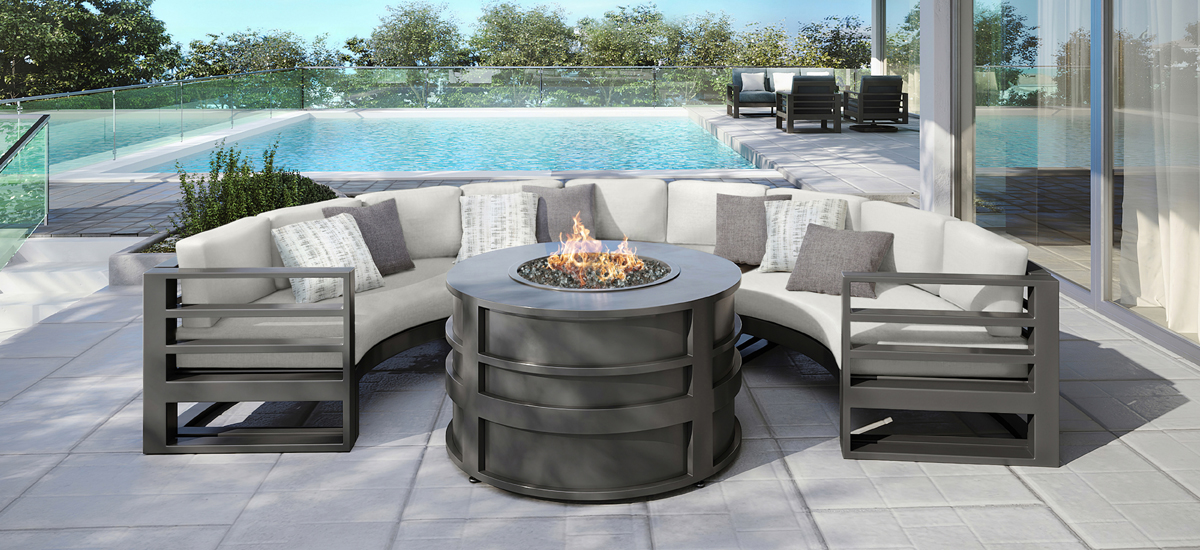 Natural Gas Fire Pits
In order to have a natural gas fire pit installed, you must first have a central supply to your property. If you have a gas stove, water heater or indoor fireplace, a natural gas fire pit
outdoors is a possibility. They are essentially the same as a propane fire pit, except they cannot be moved. The supply is fixed, so the unit is not portable.
For families looking for permanent placements without the inconvenience of refilling propane tanks a natural gas pit is an excellent choice.  Most propane fire pits can also be used with natural gas.
ARE FIRE PITS SAFE?
In a word, yes! Of course, you are still dealing with fire so there is always a risk. But they are much safer than traditional camp style fires on the ground.
Manufactured fire pits eliminate the risk of direct ground fires by moving the flames above ground level.
Fire pits fueled by propane, natural gas or ethanol cool off extremely quickly so the risk of touching something hot is reduced.
Flames extinguish instantly when fuels are turned off which prevents accidents.
The lack of sparks sent up into the air also reduces the risks of spreading fires.
Wood fueled fire pits come with a mesh covering to help contain ashes and sparks.
Ethanol glass fire pits have a wrap-around screen to keep sparks or ashes from flying up into the air and out of the fire-proof area.
The bowl itself limits the size of the fire, making it easier to control the flames.
When you install any fire pit, always make the area fireproof. Maintain a safe distance from the house and clear away anything flammable like branches or grass. Never leave the fire unattended. Keep children safely away and have a garden hose nearby, just in case.
FLORIDA BACKYARD FOR THE PERFECT FIRE PIT
The experts at Florida Backyard will walk you through choosing exactly the right fire pit for your outdoor space. No matter your budget, layout, or theme, we're here to help. Make your patio living space the envy of the neighborhood.
Ethanol Fire Pits & Bowls
Ethanol fire glass can add a luxurious, sophisticated look, typically on a smaller scale. Clean burning and low maintenance, these can often be added as centerpieces on a table to impresses guests with intimate dining and cozy conversational seating.
Ethanol fire pits and fire bowls require more budget and the added cost of purchasing containers of ethanol.
Wood Burning Fire Pits
An authentic, rustic wood-burning fire is unique. The smell of burning wood takes you back to your childhood. Running from the smoke is just part of the experience! In fact, wood-burning fire pits are a budget-friendly option. But you trade that for the extra work. Gathering wood, feeding the fire, cleaning soot and disposing of ashes all add up. A thick bowl, especially in cast iron, lasts longer and helps retain the heat during each use.
A wood-burning fire pit is ideal to recreate the feeling of camping, only safer. A rustic look and the authentic wood smoke experience is a classic way to enjoy the outdoors in the fall and spring.
Reach out to us for more information and let our designers help you select the perfect fire pit.